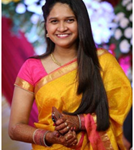 Priyanka Kane, Rmit, Australia.
Dwarakanath Canakapalli Naga & Suganya Saiprakash.
Thank you so much for completing this mammoth task of getting the Student visa for my wife and the Student dependent Visa and Child dependent visa for my child, by taking our personal situation into consideration. I wholeheartedly thank you for being so polite in answering our queries every now and then. Its truly a miracle as per me. Its all by God's grace we have achieved this impossible task.. I'm very proud to have taken the service of Olive for this purpose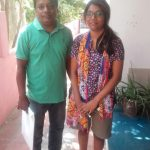 Maria Sona
It's been more than a year since we started interacting with Olive Consultants, regarding the education of my second daughter MARIA SONA GRACE in Perth,Western Australia. Looking back, I can clearly see the bumps we went into, the hurdles which looked indomitable, patience being tested, hopes dragged to the farthest limit and WHAT NOT ?
Finally we have emerged victorious, thanks to the sustained efforts and guidance of Olive Consultants.
Sangeetha Nixon , Monash University, Australia
I strongly recommend Olive Group to anyone wanting to migrate or study abroad as this team headed by Mr. Anand Manohar, literally went very much out of their way to obtain a Student Visa (573) to Australia so that I could study in one of the top universities and most importantly join my family there. I thank the team for its willingness to pursue my case which was complicated due to personal circumstances and visa rules as most other agents take only cases that guarantee easy success. The team was honest and persistent and took a personal interest in my case and did not charge any fee for their service. I feel extremely fortunate to have had the Olive Group handle my visa process.